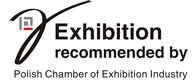 Tel: 061 869 23 33
Fax: 061 869 23 30
E-mail: tech@mtp.pl


Die Internationale Messe Poznań
leistet technische Dienste, die das Arrangement der Ausstellungsfläche, die Sicherung der notwendigen Medien und die logistische Bedienung ermöglichen. Das Team der Mitarbeiter der technischen Dienste ist eine Gruppe hochqualifizierter Fachleute mit großer Erfahrung auf dem Gebiet der technischen Unterstützung für Organisation von Messeveranstaltungen, Konferenzen und sonstiger Events.
Unsere Mitarbeiter stehen zur Verfügung der Kunden während der Aufbauarbeiten und während der Messedauer. Die Marke der Internationalen Messe Poznań bürgt für den hohen Standard der geleisteten Dienste, der effektiven und fachmännischen Bedienung.
Umfang der geleisteten Dienste:
Realisierung kompletter, schlüsselfertiger Messestände,
Installation von Elektro-, Wasser- und Abwasser-, Druckluftanschlüssen, Anhängen von Elementen an Hallendecken,
Installation von Telekommunikations- und Internetanschlüssen,
Vermietung der Standausstattung,
Speditionsservice für Ausstellungsgut,
Standreinigung,
Vermietung von Personal: Dolmetschern, Hostessen, Schutzdienstangestellten.
Download:
Regulations for participants, technical rules and fire and primary data about pavilions apply to participants of fairs in 2017 

download
Dateien sind im PDF-Format gespeichert.
Software zum Downloaden.